School of Credit and Financial Management
Chartered Credit Research Foundation...
... to promote and direct credit research and education.
---
... passed the 30,000 mark.
---
North Atlantic Treaty Organization (NATO) Established
The Treaty of Brussels was a mutual defence treaty against the Soviet threat at the start of the Cold War. However, the parties were too weak militarily to counter the military power of the USSR. European leaders met with U.S. defense, military and diplomatic officials at the Pentagon, under U.S. Secretary of State George C. Marshall's orders, exploring a framework for a new and unprecedented association.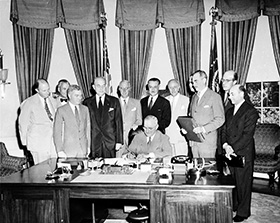 President Truman signing the NATO treaty, as various dignitaries look on (click to enlarge).
---
(return to top)
Graduate School of Credit and Financial Management
Executive's School of Credit and Financial Management renamed Graduate School of Credit and Financial Management and conducted for the first time at Amos Tuck School of Business Administration, Dartmouth College in Hanover, NH.
The Tuck building in 1946 with just a sampling of what the first students experienced during the 1950 class. (click to enlarge).
---
June 30, 1950
July 27, 1953
During the Cold War many proxy wars were fought, with the Korean War being the most significant. Proxy wars were motivated by fears that direct conflict between the United States, supporting democratic forces, and Soviet Union, supporting communist forces, would result in nuclear holocaust, rendering proxy wars a safer way of exercising hostilities.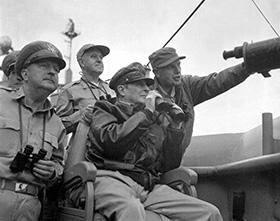 General Douglas McArthur as Commander and Chief of the United Nations forces in Korea. This was the first time that United Nations members (with the USSR refusing to neither vote nor participate) cooperated together in a police action (click to enlarge).
---
NACM Makes Its Third Move...